The Foggy Dew 

'As down the glen one Easter morn
To a city fair rode I
There armed lines of marching men
In squadrons passed me by
No pipe did hum nor battle drum
Did sound its dread tattoo
But the Angelus bell o'er the Liffey's swell
Rang out through the foggy dew

Right proudly high over Dublin town
They have hung out the flag of war
'Twas better to die 'neath an Irish sky
Than at Suvla or Sud-el-bar
And from the plains of Royal Meath
Strong men came hurrying through
While Britannia's sons with their long-range guns
Sailed in from the foggy dew

'Twas Brittania bade our wild geese go
That small nations might be free
Now their lonely graves are by Suvla's waves
Or the shores of the grey North Sea
Oh! Had they died by Pearse's side
Or fought with Cathal Brugha
Their graves we would keep where the Fenians sleep
'Neath the shroud of the foggy dew

Perhaps one of the greatest ballads to have come out of that period of our history. Written originally circa 1919 by Fr Charles O'Neill, later Canon O'Neill of Newcastle, Co. Down.
But whilst we can rightly celebrate the beginnings of Irish independence - militarily idiotic as it was - let us not forget the 'other' Irishmen who died so that the Republic could be born. They had no choice in the matter and death came uninvited to their families homes that Easter Monday, but for sure theirs was equally part of Pearse's obsessive 'blood sacrifice'.
Royal Irish Constabulary

County Inspector Alexander Gray - Ashbourne, Co. Meath
District Inspector Harry Smyth (Constabulary Medal) - Ashbourne, Co. Meath
Head Constable William Nelson Rowe 52673 - Castlelyons, Co. Cork
Sergeant Thomas F Rourke 56214 - Lisvernane, Co. Tipperary
Sergeant John Shanaher 54677 - Ashbourne, Co. Meath
Sergeant John Young 58036 - Ashbourne, Co. Meath
Constable James Cleary 64900 - Ashbourne. Co. Meath
Constable James Gormley 66800 - Ashbourne, Co. Meath

Constable James Hickey 54582 - Ashbourne, Co. Meath
Constable John Hurley 67150 - Lisvernane, Co. Tipperary
Constable Charles McGee 66908 - Castlebellingham, Co. Louth

Constable Richard McHale 67072 - Ashbourne, Co. Meath
Constable Christopher Millar 63620 - Dublin City (South Dublin Union), Co. Dublin
Constable Patrick Whelan 63409 - Carnmore, Galway WR
Incapacitated for life through wounds

Sergeant Patrick J Scully 51206 - Ashbourne, Co. Meath
Constable Patrick Cunningham 63022 - Ashbourne, Co. Meath
Constable Patrick Grace (Constabulary Medal) - Enniscorthy, Co. Wexford
Constable Henry Leckey 61144 - Ashbourne, Co. Meath
Dublin Metropolitan Police

Constable William Frith
Constable Michael Lahiff
Constable  James O'Brien
Incapacitated for life through wounds

Constable John McGrath
District Inspector Harry Smyth
killed at the Battle of Ashbourne, 28 April 1916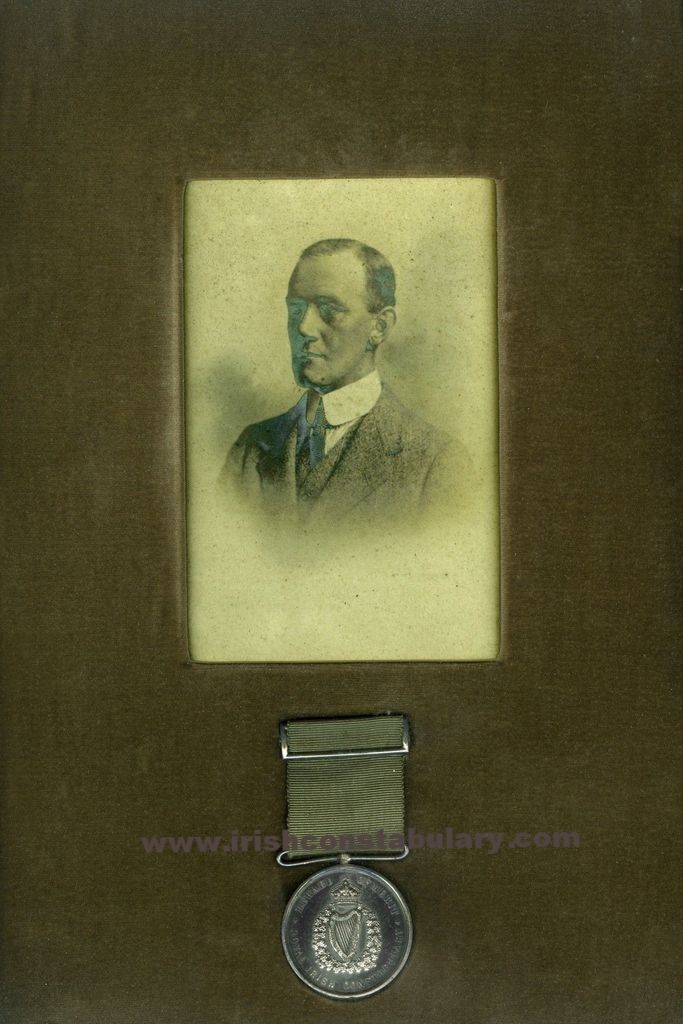 Constable Charles McGee