---
The Peace Preservation Act of 1814 allowed for the creation of the Peace Preservation Force which is seen by many as the precursor to the establishment of the Irish Constabulary and of the modern police services on the island of Ireland. To mark this bicentenary, the National Museum of Ireland-Country Life will open an exhibition dedicated to Irish policing in June 2014, to run until April 2015.
The exhibition will focus on organised policing over two hundred years on the island, exploring the degree to which standard policing has metamorphosed or remained static against the backdrop of British and Irish rule. The exhibition which will encompass three gallery floors at Turlough Park, Castlebar, Co. Mayo will sample the nature of crimes which confronted the forces from the nineteenth century up to the present day and will also feature an intriguing section depicting state punishment of the guilty in Victorian Ireland. 
From the initial crime to capture and punishment, both corporal and capital – Preserving the Peace opens a door onto the sometimes uncomfortable reality of Ireland's official past. 
This important exhibition, curated by Noel Campbell of the National Museum of Ireland, will run for nearly a year at Turlough Park, Castlebar.  Covering three gallery floors and with interactive exhibitions, guided tours and a hedge school, it promises to be an interesting if not controversial and challenging subject.
The exhibition will be formally opened on 13th June by the Garda Commissioner, Noirín O'Sullivan and PSNI Assistant Chief Constable, Alistair Finlay.
---
One of the subject matters to be covered will be a focus on District Inspector Michael J Carney.
Michael John Carney was born in Cappalahan, County Tipperary on 18 July 1887. At the age of 19 Michael followed in his father's footsteps and joined the Royal Irish Constabulary (no 62529) in April, 1907.
Michael first served in County Galway and after promotion to Acting Sergeant in 1914 he was transferred to Cahir in County Tipperary. There he met and fell in love with Edith Kenny, the daughter of a Head Constable in the RIC. Shortly after his meeting Edith, the Great War engulfed Europe. Like many constables, Michael felt duty bound to fight and enlisted in the Royal Irish Regiment.
Michael and Edith married in December, 1916. That same month Michael was sent to France on active service returning in December 1917 for a time. The Carneys' first child was born while Michael was fighting in France. He eventually returned to Ireland in 1919 and rejoined the RIC reaching the rank of District Inspector while posted in Gort, County Galway. Following the disbandment of the RIC, Michael Carney qualified as an accountant and moved his wife and children to Dublin. Michael J. Carney died in December, 1975.
Michael and Ediths Wedding - December 1916
Michael Carney - unidentified location but either a depot or military barracks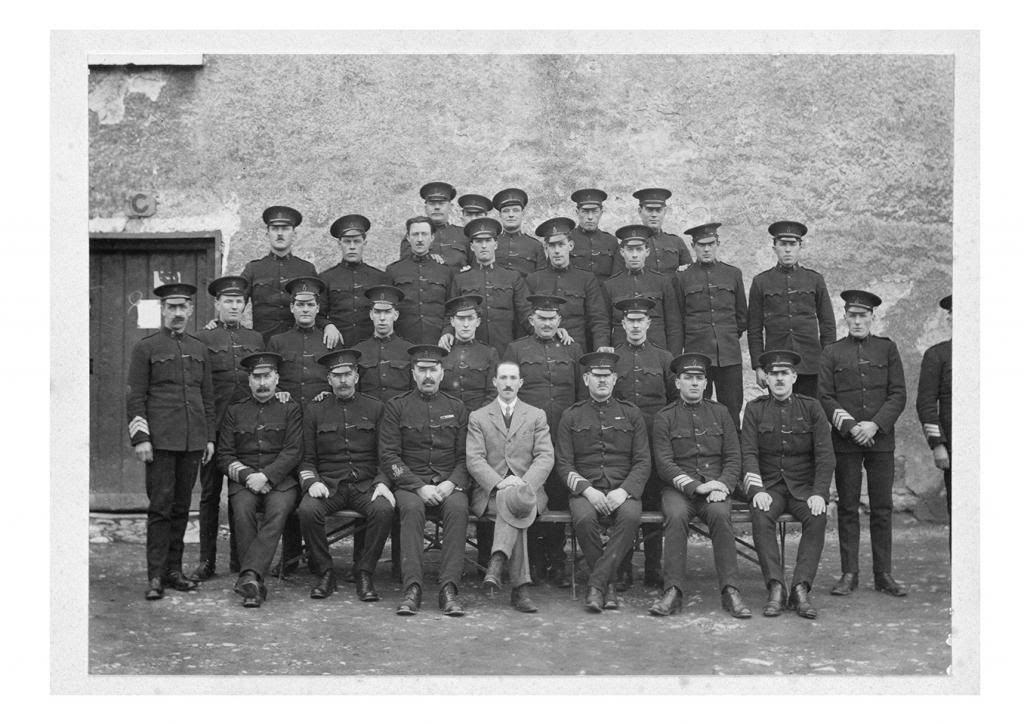 DI Carney at Gort Barracks, 1921
(with thanks to Noel Campbell. Photos copyright NMI and not to be copied)
For further information on the exhibition see the NMI website - http://www.museum.ie/en/exhibition/preserving-the-peace.aspx