Neil McFeely was born on the 10th January 1869 at Carrowmeenagh, Co. Donegal. At the age of 11 he and his family suffered under the mass evictions in 1881 (the 'Carrowmeenagh Evictions').  He later moved to Dublin where he joined the Dublin Metropolitan Police (Warrant No. 9758) in November 1892.
He served throughout the 1916 Rising (where he received an award) and into the 'Troubles', before being dismissed in February 1920 in rather mysterious circumstances, with some speculation that he may have been working for Michael Collins. He first came to my attention when reading the CO904 Intelligence Files.
Neil McFeely certainly seemed to be a thorough and dedicated member of the DMP, and his name appears many times in the files of G Division. Whether or not he was in Collin's employ I cannot say, but it is certainly possible he had split loyalties. How he would have felt seeing his colleagues gunned down by Collin's gunmen from 1919 onwards - colleagues he would have worked intimately with - may never be known. When I came upon the letter below I thought that perhaps he had fallen foul of some personal vendetta or power politics in the DMP, and had occurred the wrath of the Chief Commissioner, it seemed such a tragic note, but the supposition that he had supplied information to Collin's casts perhaps a different light. I've seen similar letters penned by prominent republicans begging for the jobs back in the civil service, post office and even Valentia Telegraph Station, so alongside an individuals wish to retain a salary and government funded pension there may also be a desire to retain a position whereby they had access to valuable information.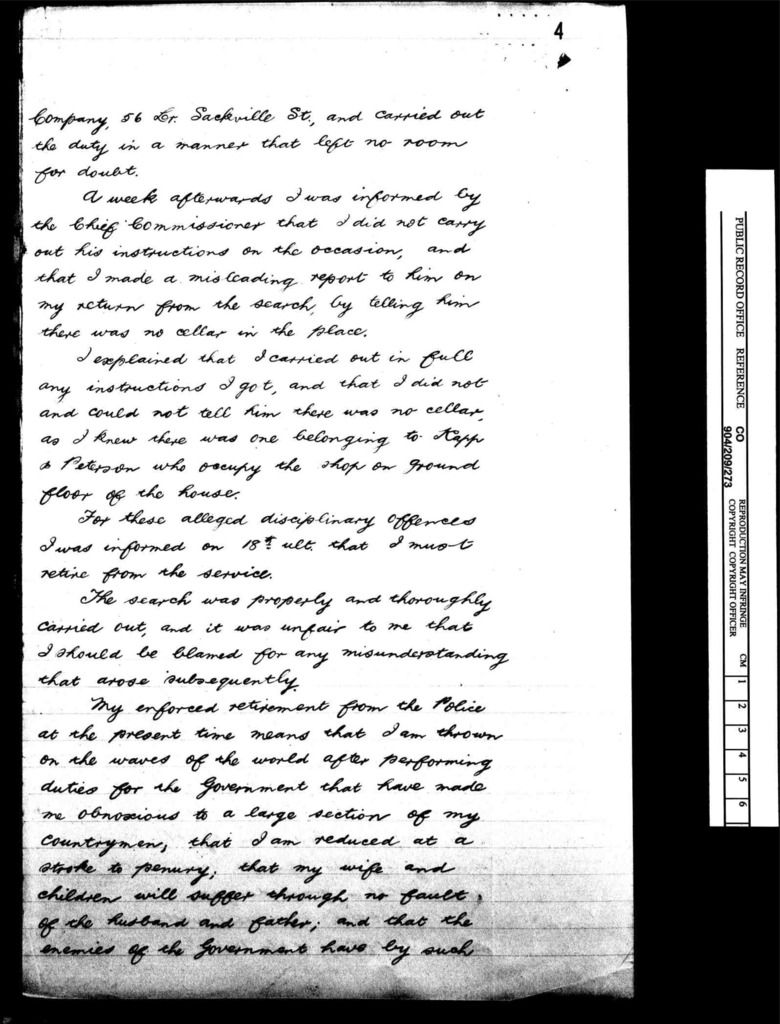 The New Ireland Assurance Company was set up by Thornton and Tobin and manned almost entirely by Volunteers. I'm not inclined to believe McFeely was working for Collins but he may very well have been sympathetic to the wider nationalist cause and concerned enough to help out any youngster he came across to 'get them out of way'.
According to the spy Neligan (whose own memoirs have to be treated with some caution) McFeely was 'in fear of his life' and had an escort to walk him home at night - this was of course after the assassination of other G-men - and that his dismissal was a result of the suspicion hanging over him following the raid - the senior men knew that the arms were there as Jameson (whose real name was John Charles Byrnes) had planted them. I suspect McFeely was just unlucky and as a Catholic may have been thought disloyal by his superiors in the fevered atmosphere of those times.
CO904/209/273