One of the most interesting officers of the early Palestine Police was Eugene Patrick Quigley M.C., who set up and commanded the first Criminal Investigation Department in Palestine.
Eugene Quigley was born in the townland of Tawnagh, Riverstown, Co. Sligo on the 4th of March 1889, the son of an agricultural labourer. The 1901 census shows that his uncle, Royal Irish Constabulary pensioner Peter Quigley, 33648, lived in the same house (Peter had retired in 1895 and was paid his pension in Ballymote until his death in 1914).

The Royal Irish Constabulary

Eugene found first employment as a Railway Clerk before deciding to join the RIC, which he did in 1908 as Constable no. 64538. He was in No.1 Company at Phoenix Park Depot during his training before being allocated to Co. Galway on the 15th July 1909. Upon arrival, he was almost instantly moved to the Craughwell area where he formed part of the protection party guarding Mrs Mary Ryan and her two children against the intimidation offered by Tom Kenny and his thugs, under the pretence of operating for the Land League.

Service Record of Constable E P Quigley


Earlier that year, a violent assault by members of Kenny's gang had led to the death of Constable Martin Goldrick, which quickly gained notoriety as the 'Craughwell Murder'.   I have treated that subject in an earlier article
(follow this link)
- suffice to say that the protection huts, housing around 12 police, remained in the area for several years. Quigley is known to have been at Craughwell from his allocation to Galway until at least 1911 (he appears there in the 1911 Census), and may have been transferred to Loughrea shortly after.
Mrs Ryans cottage, Templemartin, early 1909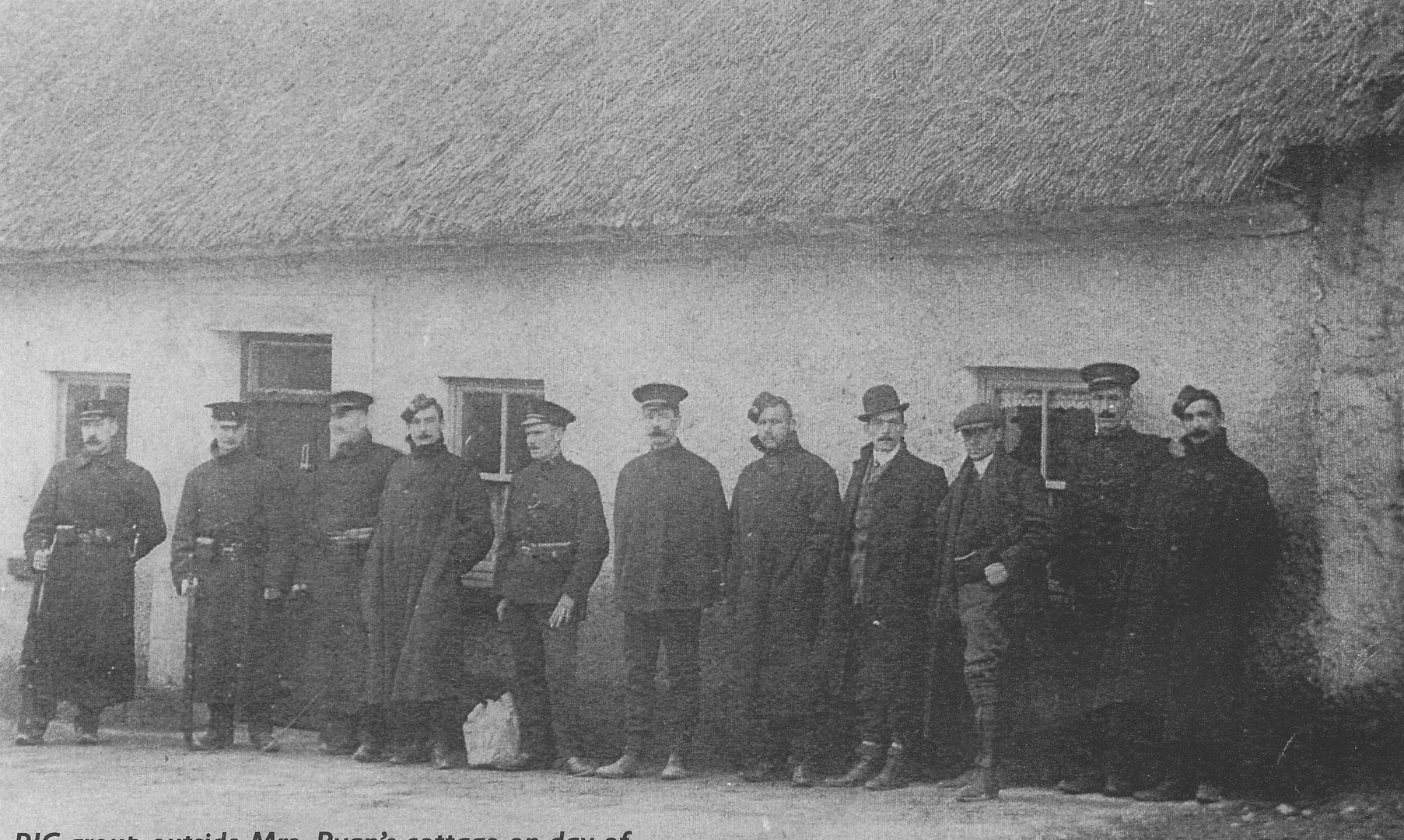 The police party at Craughwell Hut, 1910
 - Quigley, though stationed here at the time, is not present in this photograph.
A family named Broderick lived in Loughrea - the father, Michael, was a shop keeper and he had a daughter Lillie, aged 14 at the time of the 1911 census. The children had all been born in America. We know Eugene had cause to be in Loughrea, either because he was stationed there or because he attended Petty Sessions, as evidenced below -
Petty Sessions records showing Constable Quigley prosecuting

In any event, a relationship must have developed as Lillie was to become his future wife.

Service in The Royal Dublin Fusiliers
The start of the Great War saw a significant number of police volunteering to join the fight - the authorities granted this to a certain number but, worried that policing levels would be adversely affected in the country, denied many others the chance to be seconded to the Army. As a result a lot of the younger men resigned their police appointments and enlisted - Eugene being among them. He left the RIC on 25th December 1914 and was to state that he did not wish to return. He may have been driven by a patriotic duty, or he may have been far too intelligent a man to be wasted in a small Galway country town - I suspect the latter is what drove him to get out and he took his chance.
Quigley joined the Royal Dublin Fusiliers where he was made temporary 2nd Lieutenant in February 1915, obviously a brave and fearless leader, he was awarded the Military Cross (gazetted 20 October 1916) whilst serving in Sep that year with the 9th Royal Dublins, "though wounded, he brought a machine gun into action against some enemy who were collecting to repel our attack. Not finding a suitable rest for one of his guns, he had it placed on his shoulder, where it opened fire".
He was transferred to the Royal Fusiliers in May 1918 on promotion to temporary Captain (gazetted 1 July 1918), returning home to Dublin to marry Lillie Broderick in the Pro-Cathedral, Dublin, on 22 May 1918.
I believe that by the end of the war he was serving with a service battalion of the Royal Fusiliers in Palestine under General Allenby. (further work needed to establish details)

Policing the Holy Land

With the surrender of the Turkish forces on 11th December 1917, General Edmund Allenby, Commander-in-Chief of the Egyptian Expeditionary Force, became the first Christian conqueror since the Crusades to enter Jerusalem.   Only a few days earlier British officers had accepted the keys of the city from the Mayor of Jerusalem, and the Assistant Provost Marshal of the 53rd Division, Joseph Frederick Broadhurst, took over the military policing arrangements of that town.  A City Police Force was soon re-established comprised of a single British officer supported by Turkish and Arab police drawn from the former Turkish-led constabulary.  The Municipal Police Forces in surrounding towns were to be amalgamated in the coming years.  Allenby was quick to establish a system of administration in the captured lands of Syria - the Occupied Enemy Territory Administration - O.E.T.A. - of which the land of Palestine fell under O.E.T.A (South).  Within the Administration the Department of Public Security was to provide for policing, and a commander to unify and re-shape the old 'Turkish system' was found in Lt Col Percy Bramley O.B.E., in July 1919. Bramley took command as Director of Public Security and Commandant of Police and Prisons; he obtained authority for an establishment of 18 British Officers, supported by 53 Palestinian Officers and 1,144 other ranks.  The British were all drawn from OETA (South) and all strictly selected for ability, and they included Quigley and Broadhurst.
In May 1920 Quigley is shown as being a Temp Captain, Royal Fusiliers, but now as a 'Deputy Asssistant Administrator' - his role in the OETA Department of Public Security. He was to relinquish his army commission on the 29th August 1920.
Bramley appointed Quigley as his head of the Criminal Investigation Department (C.I.D.) - a role no doubt chosen in the knowledge that he had previously served in the Royal Irish Constabulary. The R.I.C. was considered, at that time, as the world's premier model for colonial policing, and its members were highly sought after for their experience, training and discipline.  Quigley would have understood the techniques and methodology in establishing a records framework and he was tasked specifically with providing technical assistance in the conduct of investigations, organising the fingerprint archive, photographing suspects and crime scenes, running a crime file index, overseeing the movements of immigration into Palestine and fighting drug dealers.  He operated from an office in the old Russian Compound in Jerusalem,  his assistant being Edward Cosgrove - 'Cossie' of later fame and renown in the Palestine Police.
In 1923 Quigley was promoted to Superintendent (Jaffa District) and Cosgrove took over the running of the CID until such time as a new head was appointed; in 1924 the role was  taken over by J.F. Broadhurst, the same Broadhurst who had been given the keys to Jerusalem in 1917.
The C.I.D. though, like many of the British, lacked the understanding of the guile and intrigue with which the Arab and Jewish factions played each other off.  A series of devastating riots from 1921 to 1929 underlined the flaws in the intelligence network and the governance between police, military and administration.  None of this was directly Quigley's fault - in first establishing the C.I.D. he was doing the job he was given to the best of his abilities, and with the resources given to him.  Nonetheless a major restructure was required to cope with the changing political events and in 1930  - as a result of the Dowbiggin Report - the Commander of the Police was changed, as regards the C.I.D. a new role of Deputy Commandant was to be established, and Broadhurst was to be replaced.
Eugene Quigley, his wife Lillie and their children Mildred and Godfrey, circa 1926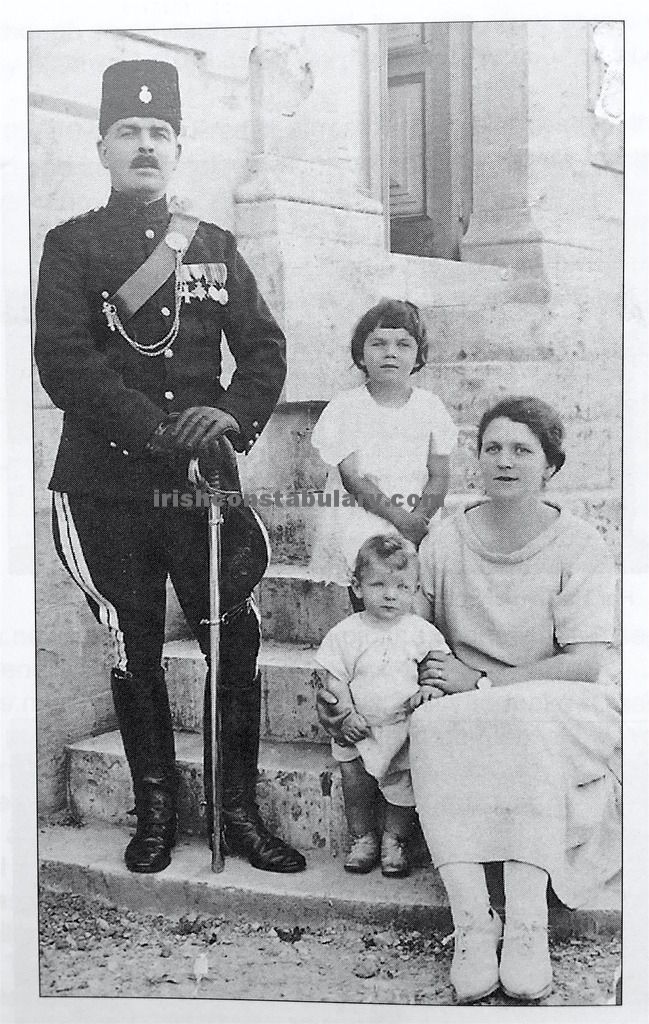 source - PPOCA magazine
The children had a nursemaid - Florence Kennedy (known as Mim) - who was to marry Redvers Thomas Powell "Wiggy" Bennett in 1926 - the first wedding in British police circles since the founding of the force. Wiggy Bennett had previous service in the RIC and had been allocated to County Galway.
Quigley was brought back to command the Department he had originally created, now as Deputy Commandant of the Palestine Police until his own replacement could be found (Palestine Gazette 16 Oct 1930). His new structure clearly differentiated between Criminal and Political intelligence, and operated more along the lines of M.I.5.  He did exceptional work in setting up the new structure before being replaced by Harry Rice in February 1932.   
Deputy Commandant Quigley, 1931
source - PPOCA magazine
By then his health had started to deteriorate, and Eugene Quigley died Sep 13th, 1939, in London,  aged 50 years. His wife was to die, in Ireland,  in 1963.
A largely unknown facet of this interesting man's career was his role in setting up the Palestine Police Band.  Whether or not his interest in band music was inspired by the famous R.I.C. Band that he would have known in the Dublin Depot I cannot say, but it would appear that he enjoyed hearing music during his service in the Royal Fusiliers, where he had been entertained by a certain East London N.C.O. serving in one of the Jewish Battalions.  The man was Sergeant Major Aubrey Harris Silver, and he was specifically recruited by Quigley to form and lead the new band - which was soon, and for years to come, be one of the most famous musical institutions in the Middle East.  Silver himself was to die from injuries received in a terrorist bomb attack, and is buried in the Holy Land.
Godfrey Quigley
Godfrey was born in Jerusalem in 1923. He moved to Ireland around 1936/37 following his fathers retirement from the P.P. and was to serve as a pilot in the R.A.F. and then took up a career as an actor.  He was to take important roles in 'A Clockwork Orange' (as the Prison Chaplain) and 'Barry Lyndon' - both Stanley Kubrick films - 'Get Carter', 'Educating Rita', 'Z Cars' and many others. He died in 1994 and is buried in Glasnevin.
I would welcome hearing from anyone who can provide further information on the the life and career of Eugene Quigley.
References and Notes
Edward (Ted) Horne - 'A Job Well Done - A History of the Palestine Police Force 1920-1948'. London, 2003. 
Tom Segev - 'One Palestine, Complete. Jews and Arabs under the British Mandate'.  New York, 1999.
Eldad Harouvi - 'Palestine Investigated - The Criminal Investigation Department of the Palestine Police Force 1920-1948'. Sussex Academic Press, 2016
Palestine Police Old Comrades Association (PPOCA) Magazine - Issue 229 p42