On Tuesday 20th January 1920, around 10.15pm, Constable Finnegan was making his way home from the police barracks in Thurles to his home on The Mall. As he approached his front door he was fired on by three men in fawn overcoats who had been standing some 10-15 yards from his house, the street lamp having been extinguished. Shot in the stomach, he staggered home crying " Oh Mary, I'm shot!" to his wife whose screams could be heard throughout the street. As he collapsed at his door some neighbours came to his assistance. He said again "Mary, I am done. What will you and the babies do?"
Word was brought to the police and military of the shooting and a party of Sherwood Foresters, together with members of the local constabulary, appeared on the streets armed with rifles. The windows of the houses of twelve prominent Sinn Feiners were smashed as well as the windows in the nearby Sinn Fein Hall, and the Crown Forces fired a number of volleys down the street. No-one was injured although the disturbances lasted several hours. This became known as "The Sacking of Thurles".
Constable Finnegan was taken to the Steevens Hospital in Dublin. In an attempt to save his life, blood was transfused from Constable Patrick McGirr. This was a new concept at the time but now transfusions are commonplace. However it was to no avail, and Finnegan died of his wounds two days later.
He was buried on the 29th January, his remains being taken by train first to Ballinlough, Co. Roscommon, where they were met by Mr Patrick Kelly, ex-Sgt RIC, who was his father-in-law. They then travelled to nearby Williamstown in Co. Galway together with a Funeral Party from RIC Dunmore.
Constable Finnegans Grave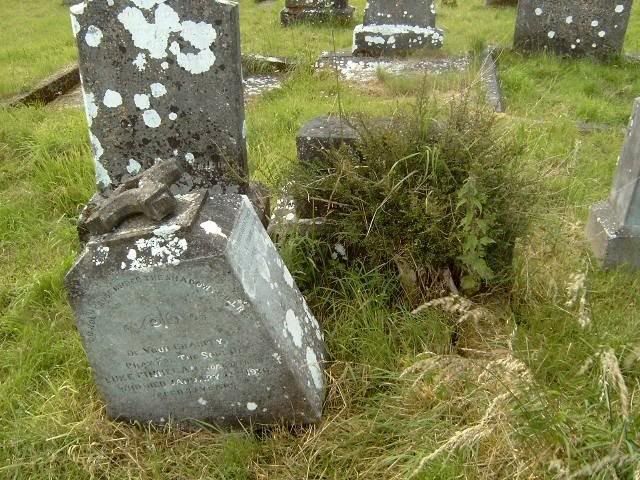 Detail

The inscription reads:
"Oh Holy Cross Under the Shadow I Will Rest / Of Your Charity / Pray for the Soul of / Luke Finnegan (of Gorthduff) / Who died January 22nd 1920 / Aged 32 Years"

Up until this killing the police had endured attack after attack without breaking discipline. This was the first time that the police had retaliated, and after this incident the pattern of unoffical reprisals started to gather momentum culminating in the adoption of 'Official Reprisals' authorised by the Government by the end of 1920.
photos by Klifton Snow, details from "Police Casualties in Ireland' by Richard Abbott and the Capuchin Annual 1970.